Container Orchestration : Docker Swarm vs Kubernetes vs Apache Mesos
---
bogotobogo.com site search:
---
Note
This page is a compilation work rather than my opinion.
Container Orchestration
We can describe the three as follows:
Docker Swarm:

It is the native Docker clustering solution, so it exposes standard Docker API.

While we will be able to use familiar Docker tools of our own choice, we are bound by the limitations of Docker API.

Swarm extends the existing Docker API to make a cluster of machines look like a single Docker API.






Kubernetes:

It is a Google's point of view on container orchestration.

We could mount persistent volumes that would allow us to move containers without loosing data, it used flannel to create networking between containers, it has load balancer integrated, it uses etcd for service discovery, and so on. However, Kubernetes comes at a cost.

We cannot use Docker CLI nor we can use Docker Compose to define containers since it uses a different CLI, different API and different YAML definitions. It requires steep learning curve because everything needs to be done from scratch exclusively for Kubernetes.






Apache Mesos:

It is a Multi-Framework orchestration solution for containers.

Mesos is less focused on running just containers since Mesos existed prior to widespread interest in containers and has been re-factored in parts to support containers.

Mesos focuses on scheduling, and plugging in multiple different schedulers, and as the result, the Hadoop and Marathon can co-exist in the same scheduling environment.




Picture credit : DOCKER, KUBERNETES, AND MESOS: COMPARED


How to choose the One
General instruction for choosing the right one: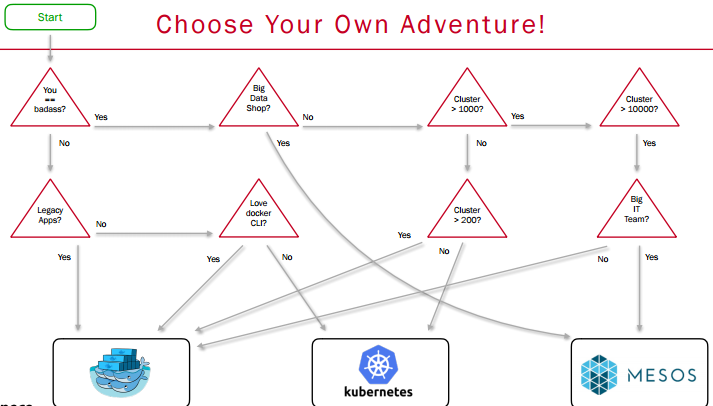 Picture credit : DOCKER, KUBERNETES, AND MESOS: COMPARED




References