Jenkins on EC2 : 4. GitHub hook configuration and GitHub notification to Jenkins

---
bogotobogo.com site search:
---
Note
Now we have a GitHub repository from which Jenkins is pulling our code, building and testing it. We want to setup GitHub so that it will notify Jenkins every time a change is pushed to the repository, then Jenkins will automatically pull the code down for GitHub, build it and run all of its tests.
Adding Jenkins service to GitHub
Let's go back to GitHub, under "Settings"=>"Webhooks & Services"=>"Add services"=>"Add Jenkins (Git plugin)". Now, we're going to use the Git plugin, so what we want to do is to paste in the URL for our Jenkins server (http://ec2-54-165-35-91.compute-1.amazonaws.com/), and we'll make it active.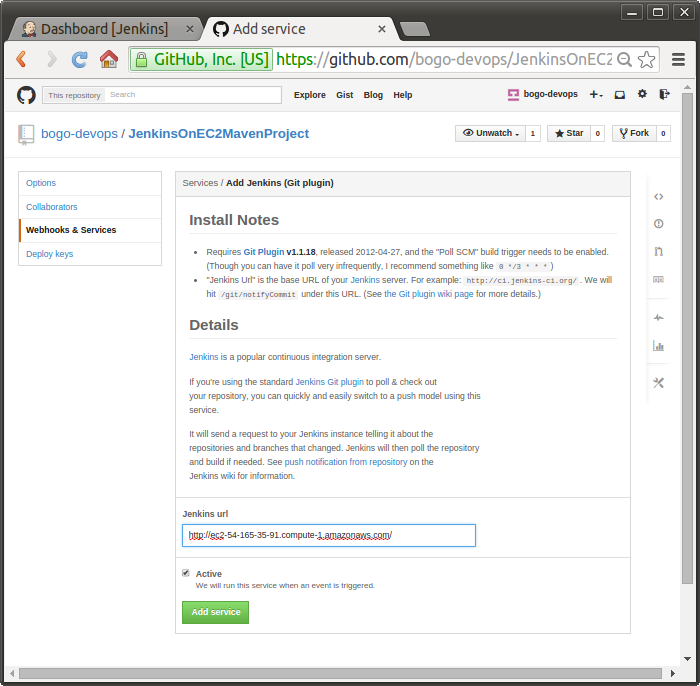 Let's take a look at the "Install Notes":

Requires Git Plugin v1.1.18, released 2012-04-27, and the "Poll SCM" build trigger needs to be enabled. (Though you can have it poll very infrequently, I recommend something like 0 */3 * * *)

Click on "Add service".
Now we have Github configured to notify our Jenkins server everytime the changes pushed into the repository.
Configure Jenkins
Now we need to go over the the Jenkins and do configure a bit. Let's go to the project and click on "Configure". We need to enable the poll SCM build option: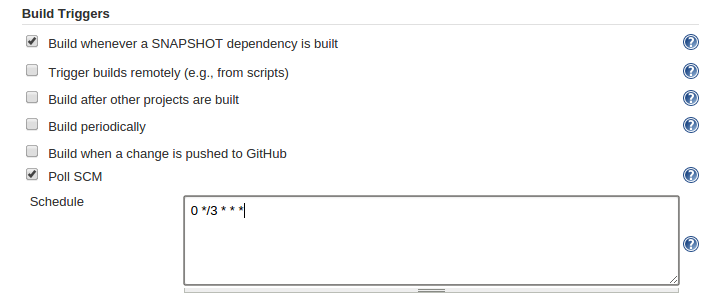 We set polling every 3 hour.
Click on "Save"
Push changes to GitHub
Let's try pushing updates to GitHub and make sure that it automatically notifies Jenkins and it starts to build for us.
We made a new README.md, and pushed to GitHub: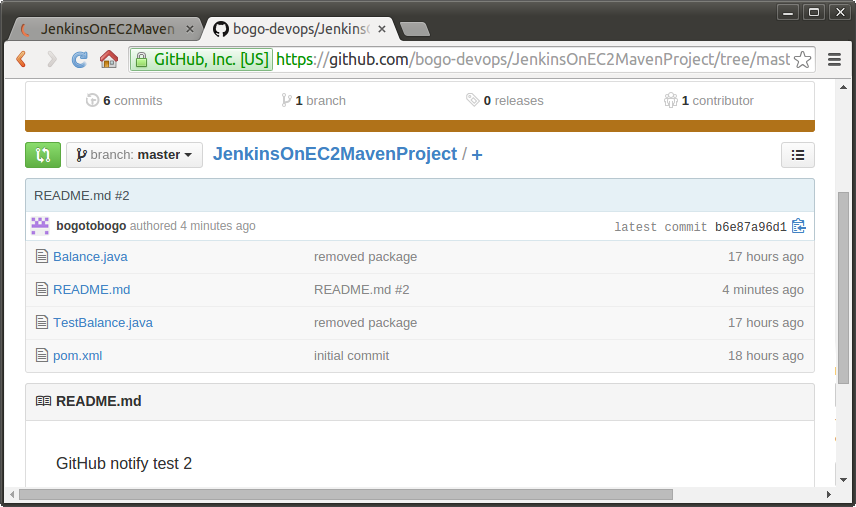 Right after the push, the "Build History" looks like this: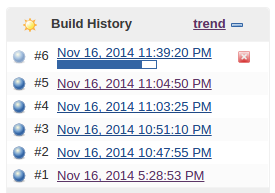 We can see our Jenkins server got notification from GitHub repository.