Apache Hadoop (CDH 5.8) Install with QuickStarts Docker
---
bogotobogo.com site search:
---
CDH 5.8
This tutorial will show how to install and configure version 5.8 of Cloudera's Distribution Hadoop (CDH 5) with Quickstarts on Ubuntu 16.04 host.
We have 4 choices:
Virtual Box
Docker
VM Ware
KVM
In this tutorial, we'll use Docker Image. The Cloudera QuickStart virtual machines (VMs) include everything we need to try CDH, Cloudera Manager, Cloudera Impala, and Cloudera Search.
The VM uses a package-based install. This allows us to work with or without Cloudera Manager.
Prerequisites
CDH 5 (default) requires 4GB+ memory.
Docker install
We can install Docker using the following command:

$ sudo apt-get install docker.io

Cloudera Docker Container
The Cloudera Docker image is a single-host deployment of the Cloudera open-source distribution, including CDH and Cloudera Manager.
Importing the Cloudera QuickStart Image
We can import the Docker image by pulling it from the Docker Hub:

$ docker pull cloudera/quickstart:latest

Running a Cloudera QuickStart Container
To run a container using the image (cloudera/quickstart:latest), we must know the name or hash of the image. The hash is also printed in the terminal when we import, or we can look up the hashes of all imported images with:

$ docker images

Once we know the name or hash of the image, we can run it:

$ docker run --hostname=quickstart.cloudera --privileged=true -t -i [OPTIONS] [IMAGE] /usr/bin/docker-quickstart

Actual docker run command we're going to use:

$ docker run --hostname=quickstart.cloudera --privileged=true -t -i -p 8888:8888 -p 80:80 -p 7180:7180 cloudera/quickstart /usr/bin/docker-quickstart

The required flags and other options are described in the following table:
| Option | Description |
| --- | --- |
| --hostname=quickstart.cloudera | Required: Pseudo-distributed configuration assumes this hostname. |
| --privileged=true | Required: For HBase, MySQL-backed Hive metastore, Hue, Oozie, Sentry, and Cloudera Manager. |
| -t | Required: Allocate a pseudoterminal. Once services are started, a Bash shell takes over. This switch starts a terminal emulator to run the services. |
| -i | Required: If you want to use the terminal, either immediately or connect to the terminal later. |
| -p 8888 | Recommended: Map the Hue port in the guest to another port on the host. |
| -p [PORT] | Optional: Map any other ports (for example, 7180 for Cloudera Manager, 80 for a guided tutorial). |
| -d | Optional: Run the container in the background. |
In the command, we used /usr/bin/docker-quickstart to start all CDH services, and then run a Bash shell. We can directly run /bin/bash instead, if we want to start services manually.
The output from the docker run looks good except the Hue.
So, we manually open the Hue: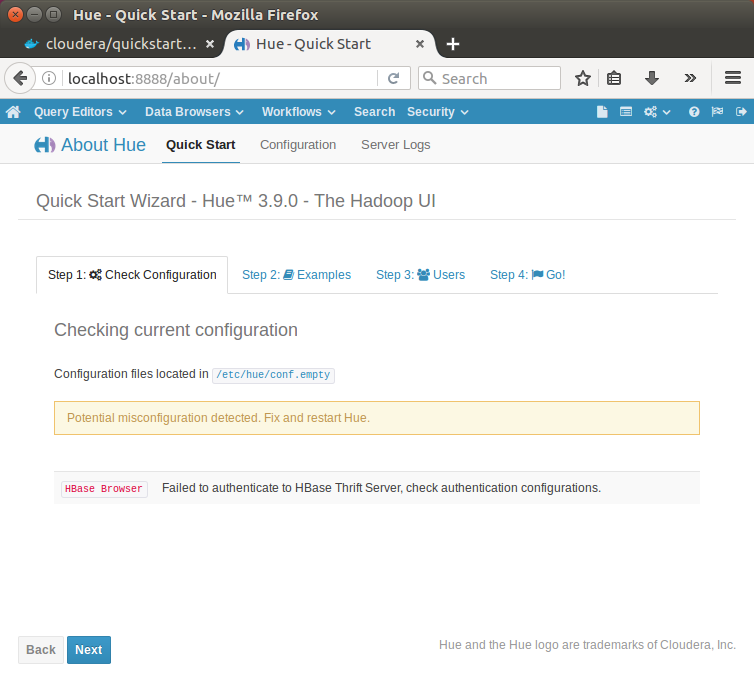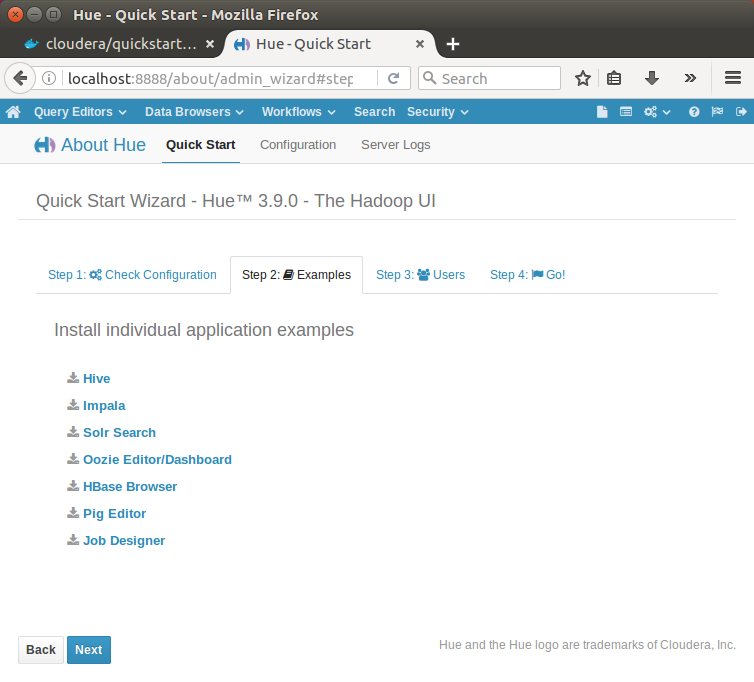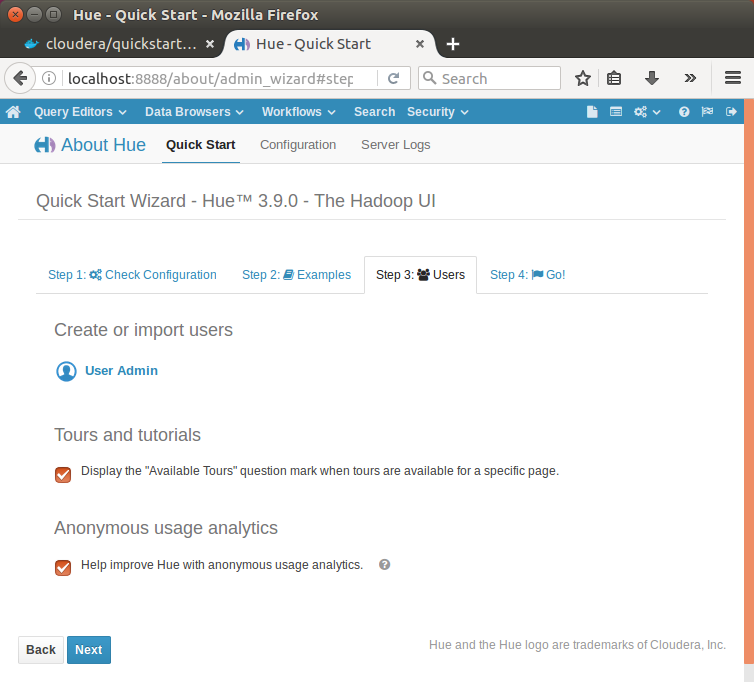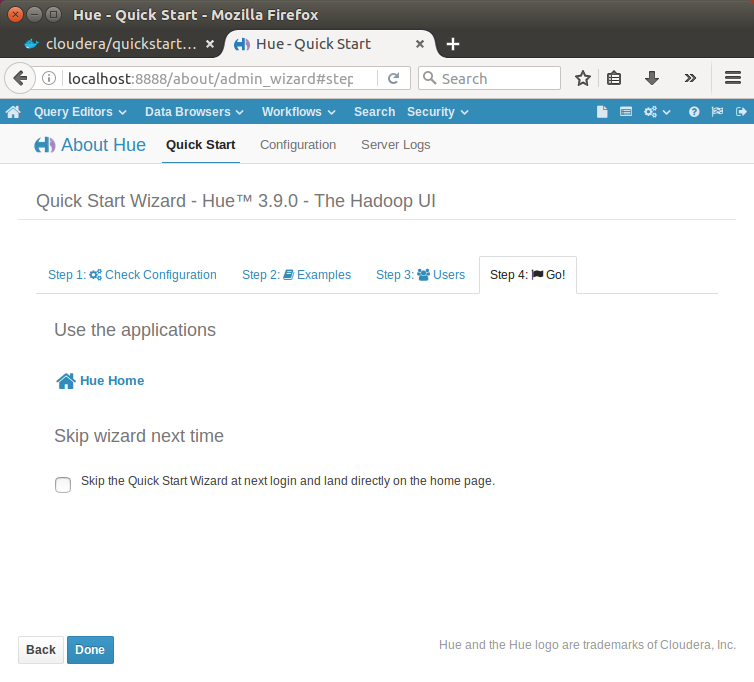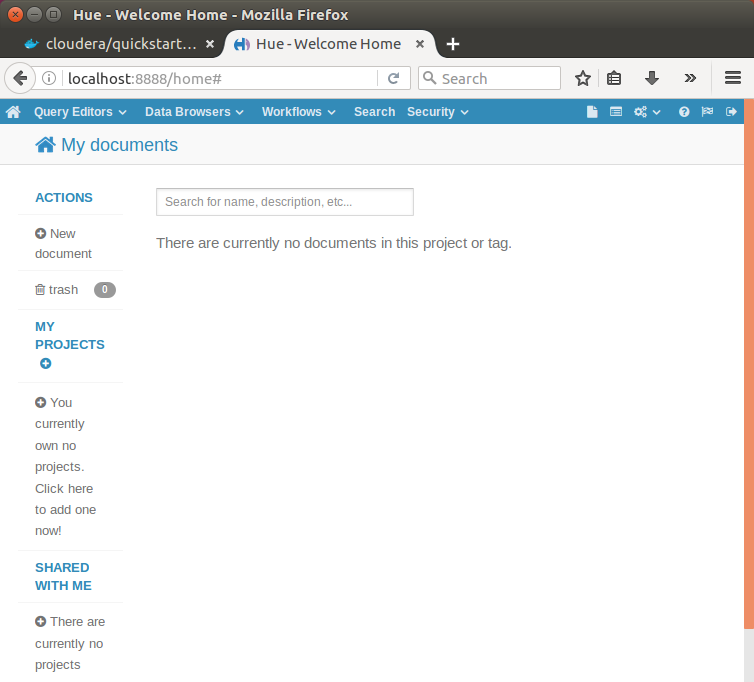 ---
Big Data & Hadoop Tutorials
Hadoop 2.6 - Installing on Ubuntu 14.04 (Single-Node Cluster)
Hadoop 2.6.5 - Installing on Ubuntu 16.04 (Single-Node Cluster)
Hadoop - Running MapReduce Job
Hadoop - Ecosystem
CDH5.3 Install on four EC2 instances (1 Name node and 3 Datanodes) using Cloudera Manager 5
CDH5 APIs
QuickStart VMs for CDH 5.3
QuickStart VMs for CDH 5.3 II - Testing with wordcount
QuickStart VMs for CDH 5.3 II - Hive DB query
Scheduled start and stop CDH services
CDH 5.8 Install with QuickStarts Docker
Zookeeper & Kafka Install
Zookeeper & Kafka - single node single broker
Zookeeper & Kafka - Single node and multiple brokers
OLTP vs OLAP
Apache Hadoop Tutorial I with CDH - Overview
Apache Hadoop Tutorial II with CDH - MapReduce Word Count
Apache Hadoop Tutorial III with CDH - MapReduce Word Count 2
Apache Hadoop (CDH 5) Hive Introduction
CDH5 - Hive Upgrade to 1.3 to from 1.2
Apache Hive 2.1.0 install on Ubuntu 16.04
Apache Hadoop : HBase in Pseudo-Distributed mode
Apache Hadoop : Creating HBase table with HBase shell and HUE
Apache Hadoop : Hue 3.11 install on Ubuntu 16.04
Apache Hadoop : Creating HBase table with Java API
Apache HBase : Map, Persistent, Sparse, Sorted, Distributed and Multidimensional
Apache Hadoop - Flume with CDH5: a single-node Flume deployment (telnet example)
Apache Hadoop (CDH 5) Flume with VirtualBox : syslog example via NettyAvroRpcClient
List of Apache Hadoop hdfs commands
Apache Hadoop : Creating Wordcount Java Project with Eclipse Part 1
Apache Hadoop : Creating Wordcount Java Project with Eclipse Part 2
Apache Hadoop : Creating Card Java Project with Eclipse using Cloudera VM UnoExample for CDH5 - local run
Apache Hadoop : Creating Wordcount Maven Project with Eclipse
Wordcount MapReduce with Oozie workflow with Hue browser - CDH 5.3 Hadoop cluster using VirtualBox and QuickStart VM
Spark 1.2 using VirtualBox and QuickStart VM - wordcount
Spark Programming Model : Resilient Distributed Dataset (RDD) with CDH
Apache Spark 1.2 with PySpark (Spark Python API) Wordcount using CDH5
Apache Spark 1.2 Streaming
Apache Spark 2.0.2 with PySpark (Spark Python API) Shell
Apache Spark 2.0.2 tutorial with PySpark : RDD
Apache Spark 2.0.0 tutorial with PySpark : Analyzing Neuroimaging Data with Thunder
Apache Spark Streaming with Kafka and Cassandra
Apache Drill with ZooKeeper - Install on Ubuntu 16.04
Apache Drill - Query File System, JSON, and Parquet
Apache Drill - HBase query
Apache Drill - Hive query
Apache Drill - MongoDB query
Ph.D. / Golden Gate Ave, San Francisco / Seoul National Univ / Carnegie Mellon / UC Berkeley / DevOps / Deep Learning / Visualization