Apache Hadoop (CDH 5) Hive Introduction
---
bogotobogo.com site search:
---
Hive is...
Hive is a SQL-like query language (HiveQL or H-SQL) with schema on read and generates map/reduce code from the query.
It is developed by Facebook. It is designed to enable easy data summarization, ad-hoc querying, and analysis of large volumes of data.
Apache Hive supports analysis of large datasets stored in Hadoop's HDFS and compatible file systems such as Amazon S3 filesystem. - wiki.
Batch, not interactive and it is used with HBase.
Hive is NOT...
Hive is not designed for online transaction processing and does not offer real-time queries and row level updates. it is best used for batch jobs over large sets of immutable data such as web logs etc.
HBase
Wide-column NoSQL database
Use CREATE TABLE over HDFS data
Then, query with Hive
Hive Schema-On-Read
Faster loads into the database because it's simple copy or move.
But with slower queries.
Flixible - we can use multiple schemas for the same data set.
How to work with Hive
Picture source: Big Data Programming Using Hadoop Workshop
We need to start Hive service, and most of the commercial ones start it by default.
Hive Metastore database:
Stores the metadata for Hive tables in a database (Derby or mySql).
It can be embedded, local, or remote.
Examples from QuickVM
We may want to start playing with examples that came with Cloudera QuickVM. First, click "All" to install all examples: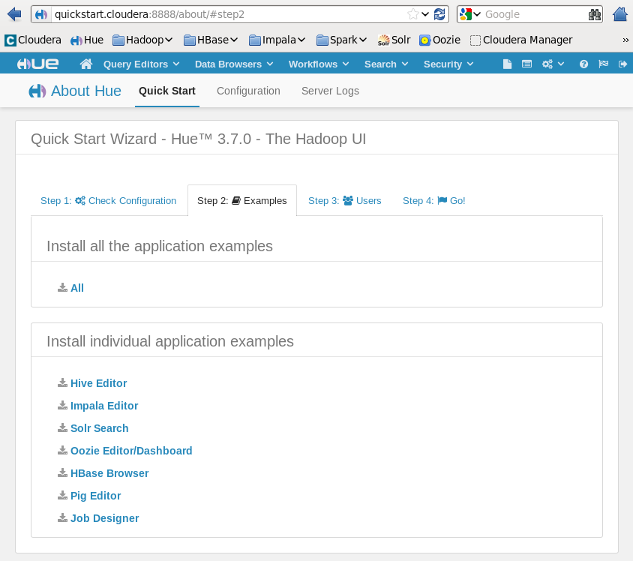 Once installed, click the Home icon which is right next to Hue, then select "Query Editor", and press "Hive":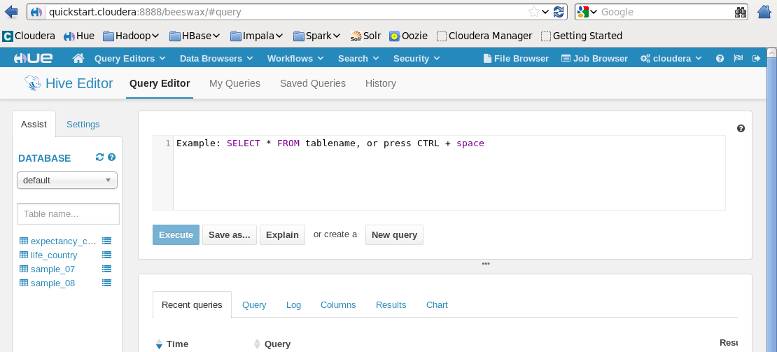 Cloudera has already populated HBase tables and installed Hive libraries for us.
We'll work with the "sample_07" table: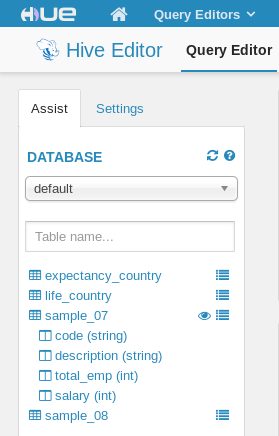 metastore manager
We can check the Columns, Sample, and the Properties of the table: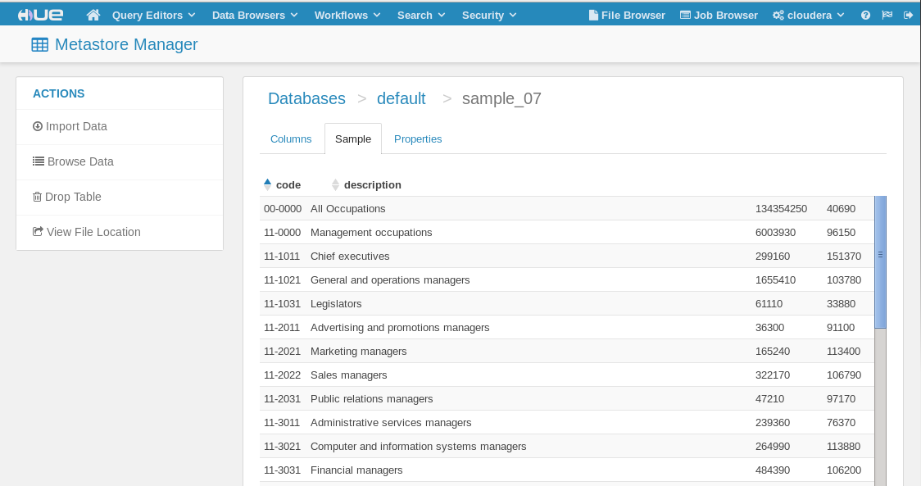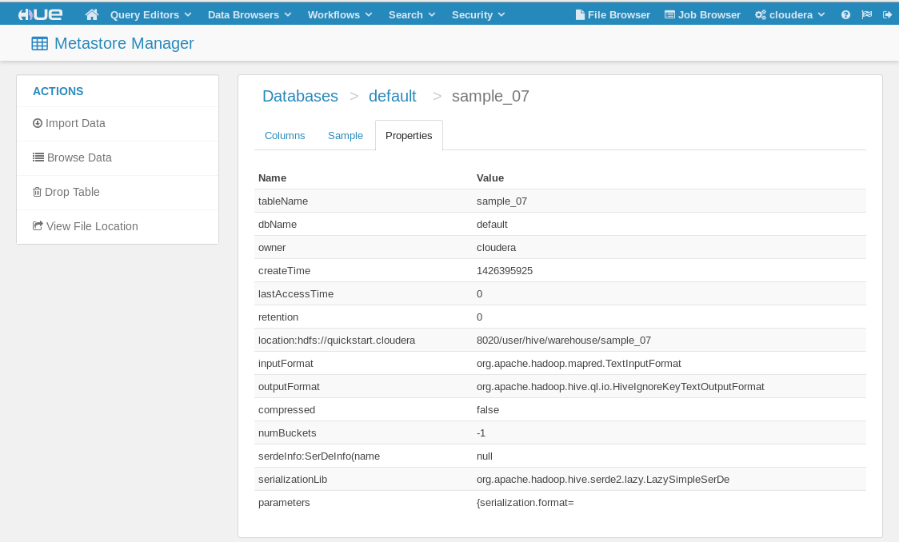 Where is the file on HDFS?
Click on "View File Location":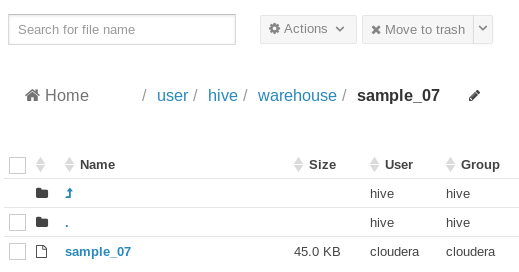 Run MapReduce with an example
Let's go back to "Home" > "Sample: Top salary":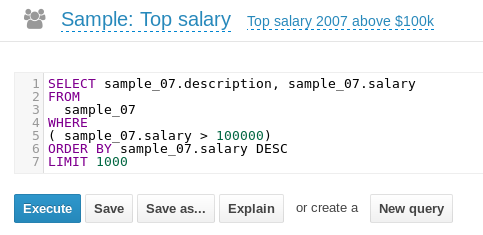 Notice the filter: salary > 100,000, descending order, and limited to top 1,000.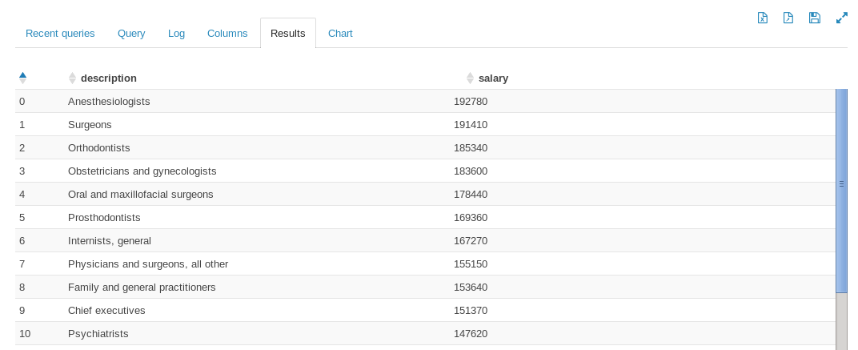 Explanation
We can get the following info by pressing "Explain" button:

STAGE DEPENDENCIES:
  Stage-1 is a root stage
  Stage-0 is a root stage

STAGE PLANS:
  Stage: Stage-1
    Map Reduce
      Map Operator Tree:
          TableScan
            alias: sample_07
            Statistics: Num rows: 442 Data size: 46055 Basic stats: COMPLETE Column stats: NONE
            Filter Operator
              predicate: (salary > 100000) (type: boolean)
              Statistics: Num rows: 147 Data size: 15316 Basic stats: COMPLETE Column stats: NONE
              Select Operator
                expressions: description (type: string), salary (type: int)
                outputColumnNames: _col0, _col1
                Statistics: Num rows: 147 Data size: 15316 Basic stats: COMPLETE Column stats: NONE
                Reduce Output Operator
                  key expressions: _col1 (type: int)
                  sort order: -
                  Statistics: Num rows: 147 Data size: 15316 Basic stats: COMPLETE Column stats: NONE
                  value expressions: _col0 (type: string), _col1 (type: int)
      Reduce Operator Tree:
        Extract
          Statistics: Num rows: 147 Data size: 15316 Basic stats: COMPLETE Column stats: NONE
          Limit
            Number of rows: 1000
            Statistics: Num rows: 147 Data size: 15316 Basic stats: COMPLETE Column stats: NONE
            File Output Operator
              compressed: false
              Statistics: Num rows: 147 Data size: 15316 Basic stats: COMPLETE Column stats: NONE
              table:
                  input format: org.apache.hadoop.mapred.TextInputFormat
                  output format: org.apache.hadoop.hive.ql.io.HiveIgnoreKeyTextOutputFormat
                  serde: org.apache.hadoop.hive.serde2.lazy.LazySimpleSerDe

  Stage: Stage-0
    Fetch Operator
      limit: 1000