Apache Hadoop : Creating Card Java Project with Eclipse using Cloudera VM UnoExample for CDH5.3 - 2016
---
bogotobogo.com site search:
---
note
In this chapter, we'll continue to create a Java project similar to WordCount with Eclipse for Hadoop. But unlike the my two tutorials below:
we will import files from Git Hub:

[cloudera@quickstart workspace]$ git clone https://github.com/eljefe6a/UnoExample.git

We're on Cloudera VM as in the previous two WordCount tutorials.
This tutorial is based on How-to: Use Eclipse with MapReduce in Cloudera's QuickStart VM for CDH5.3 and will be run locally.
Import
File > Import...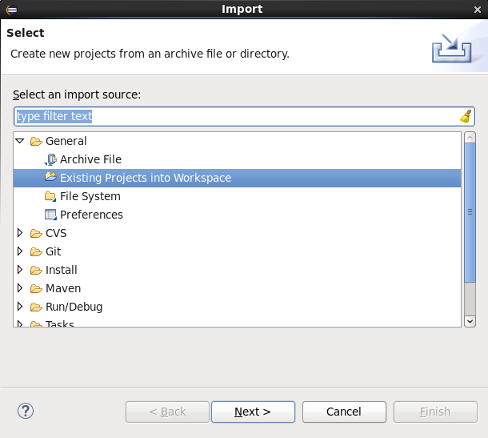 Cline Next>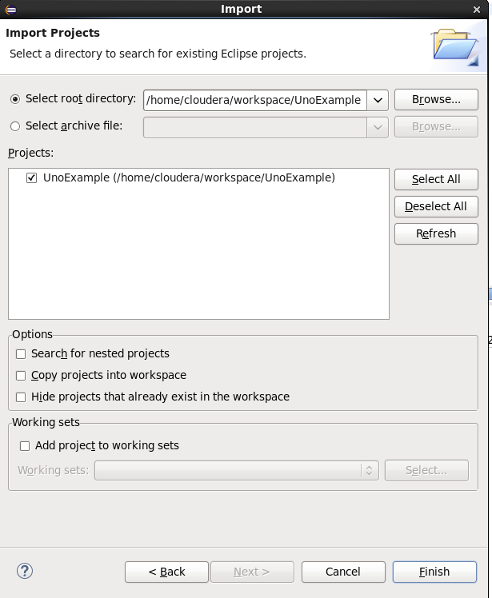 Hit Finish. We amy also need to rename the project from UnoExample to Card.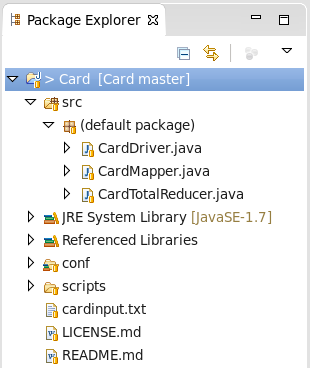 Libraries
Click on "Card" project, and select "Properties: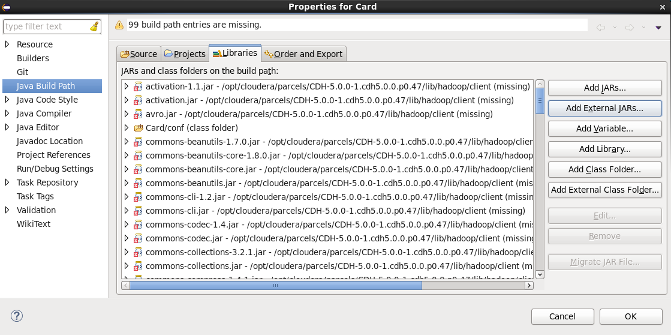 We may need additional libraries, "Add External Jars" from "hadoop" and "client-0.20":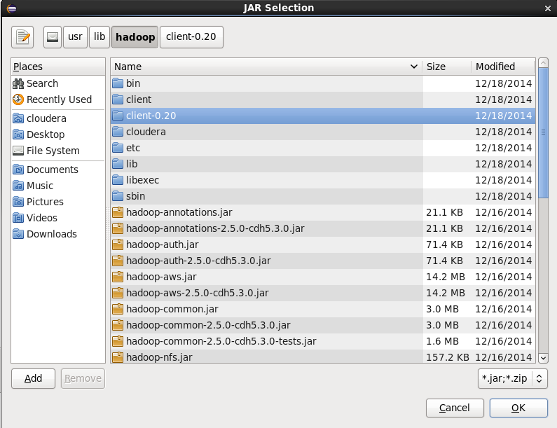 We may need to delete unnecessary libs such CDH 5.0.* from ".classpath" or using UI.
Now, we can see all libraries are there for us.
Configuration
Run > Run Configuration...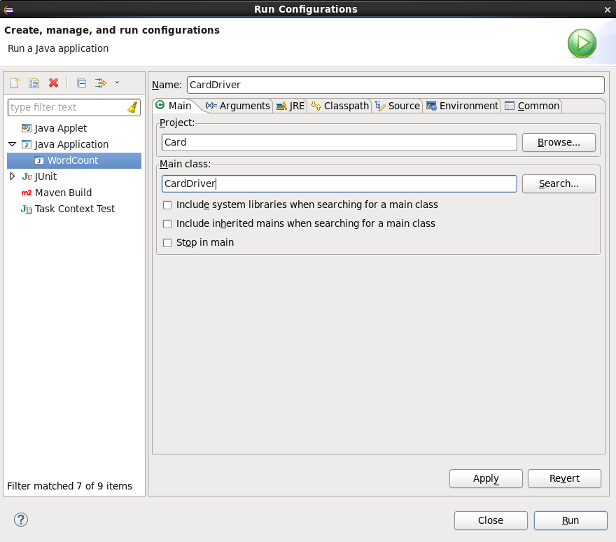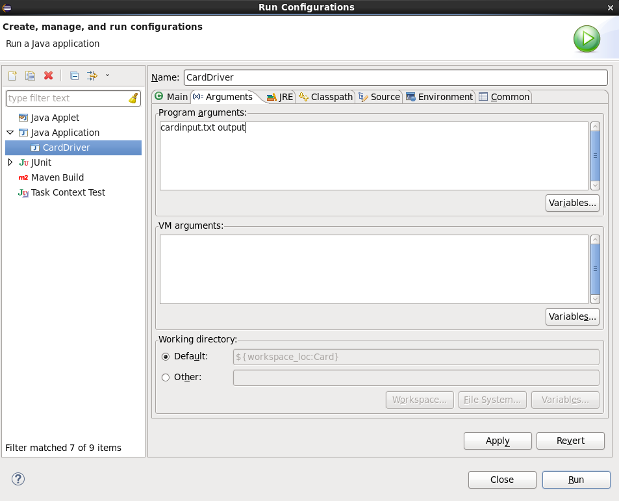 Run
Here is our files after the run: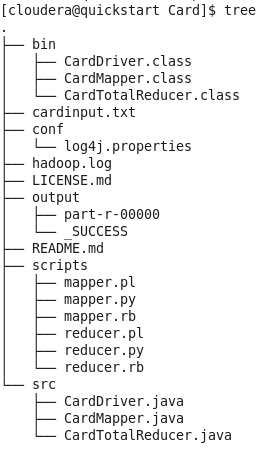 The output:

[cloudera@quickstart Card]$ cat /home/cloudera/workspace/Card/output/part-r-00000
clubs	19
diamonds	36
hearts	26
spades	31

Files used
CardDriver.java:

import org.apache.hadoop.conf.Configured;
import org.apache.hadoop.fs.Path;
import org.apache.hadoop.io.IntWritable;
import org.apache.hadoop.io.Text;
import org.apache.hadoop.mapreduce.Job;
import org.apache.hadoop.mapreduce.lib.input.FileInputFormat;
import org.apache.hadoop.mapreduce.lib.output.FileOutputFormat;
import org.apache.hadoop.util.Tool;
import org.apache.hadoop.util.ToolRunner;

public class CardDriver extends Configured implements Tool {

	@Override
	public int run(String[] args) throws Exception {
		String input, output;
		if (args.length == 2) {
			input = args[0];
			output = args[1];
		} else {
			System.err.println("Incorrect number of arguments.  Expected: input output");
			return -1;
		}

		Job job = new Job(getConf());
		job.setJarByClass(CardDriver.class);
		job.setJobName(this.getClass().getName());

		FileInputFormat.setInputPaths(job, new Path(input));
		FileOutputFormat.setOutputPath(job, new Path(output));

		job.setMapperClass(CardMapper.class);
		job.setReducerClass(CardTotalReducer.class);

		job.setMapOutputKeyClass(Text.class);
		job.setMapOutputValueClass(IntWritable.class);

		job.setOutputKeyClass(Text.class);
		job.setOutputValueClass(IntWritable.class);

		boolean success = job.waitForCompletion(true);
		return success ? 0 : 1;
	}

	public static void main(String[] args) throws Exception {
		CardDriver driver = new CardDriver();
		int exitCode = ToolRunner.run(driver, args);
		System.exit(exitCode);
	}
}

CardMapper.java:

import java.io.IOException;
import java.util.regex.Matcher;
import java.util.regex.Pattern;

import org.apache.hadoop.io.IntWritable;
import org.apache.hadoop.io.LongWritable;
import org.apache.hadoop.io.Text;
import org.apache.hadoop.mapreduce.Mapper;

public class CardMapper extends Mapper<LongWritable, Text, Text, IntWritable> {

	private static Pattern inputPattern = Pattern.compile("(.*) (\\d*)");

	@Override
	public void map(LongWritable key, Text value, Context context) throws IOException, InterruptedException {
		String inputLine = value.toString();

		Matcher inputMatch = inputPattern.matcher(inputLine);

		// Use regex to throw out Jacks, Queens, Kings, Aces and Jokers
		if (inputMatch.matches()) {
			// Normalize inconsistent case for card suits
			String cardSuit = inputMatch.group(1).toLowerCase();
			int cardValue = Integer.parseInt(inputMatch.group(2));

			context.write(new Text(cardSuit), new IntWritable(cardValue));
		}
	}
}

CardTotalReducer.java:

import java.io.IOException;

import org.apache.hadoop.io.IntWritable;
import org.apache.hadoop.io.Text;
import org.apache.hadoop.mapreduce.Reducer;

public class CardTotalReducer extends Reducer<Text, IntWritable, Text, IntWritable> {

	@Override
	public void reduce(Text key, Iterable<IntWritable> values, Context context) throws IOException,
			InterruptedException {
		int sum = 0;

		// Go through all values to sum up card values for a card suit
		for (IntWritable value : values) {
			sum += value.get();
		}

		context.write(key, new IntWritable(sum));
	}
}

Ph.D. / Golden Gate Ave, San Francisco / Seoul National Univ / Carnegie Mellon / UC Berkeley / DevOps / Deep Learning / Visualization