Apache Hadoop : Hue 3.11 install on Ubuntu 16.04
---
bogotobogo.com site search:
---
Note
In this article, we'll manage to build and run Hue, however, we may want to use distributions from Cloudera, MapR, and others. Since there are so many pieces in Hadoop ecosystems, it's getting tougher as we build the system piece by piece.
Any way, so far, we built hadoop, hbase, and now hue in this tutorial.
Since I did not configure Hue (with regard to Hadoop, HBase, ans Ozzie etc) in this tutorial, the Hue is kind of useless at this point.
Get Hue from Git
In this chapter, continuing from the previous chapter (Apache Hadoop : Creating HBase table with HBase shell and HUE), we're going to install Hue.

k@laptop:/tmp$ git clone https://github.com/cloudera/hue.git

Install Hue Native lib dependencies
Install development packages using command below:

$ sudo apt-get install ant gcc g++ libkrb5-dev libmysqlclient-dev libssl-dev libsasl2-dev libsasl2-modules-gssapi-mit libsqlite3-dev libtidy-0.99-0 libxml2-dev libxslt-dev make libldap2-dev maven python-dev python-setuptools libgmp3-dev

Build hue
Let's build Hue from the source e got from git:

$ cd hue

$ make apps

Start the development server

k@laptop:/tmp/hue$ build/env/bin/hue runserver
...
Django version 1.6.10, using settings 'desktop.settings'
Starting development server at http://127.0.0.1:8000/
Quit the server with CONTROL-C.

After a sign-up we get the following UI: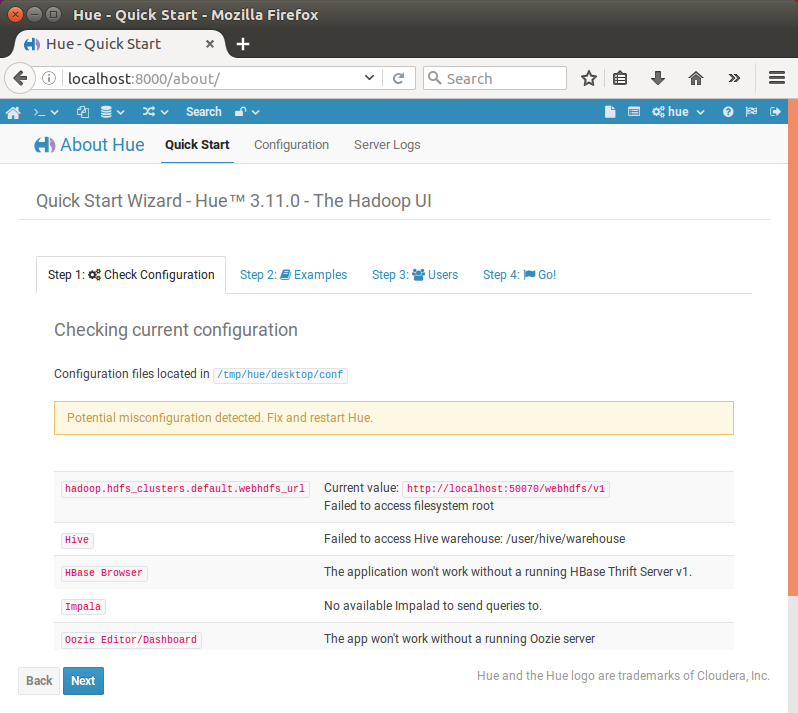 Move hue to /usr/local
Let's move our hue to the directory where our hadoop and hbase are:

$ sudo mv /tmp/hue /usr/local

hduser@laptop:/usr/local$ ls
apache-drill-1.8.0  bin  etc  games  hadoop  hadoop_store  hbase  hue  include  lib  man  sbin  share  src

hduser@laptop:/usr/local/hue$ ls apps
about    filebrowser  help    jobbrowser  logs      metastore  pig    rdbms   security  sqoop      zookeeper
beeswax  hbase        impala  jobsub      Makefile  oozie      proxy  search  spark     useradmin

Hue configuration
There are so many pieces in Hadoop eco-systems, it's getting complicated to set our configurations correctly. So, we better off using other distributions:

My choice is CDH!