CDH 5.3 Hadoop cluster using VirtualBox and QuickStart VM
---
bogotobogo.com site search:
---
note
This tutorial is based on Cloudera QuickStart VM
cloudera-quickstart-vm-5.3.0-0-virtualbox.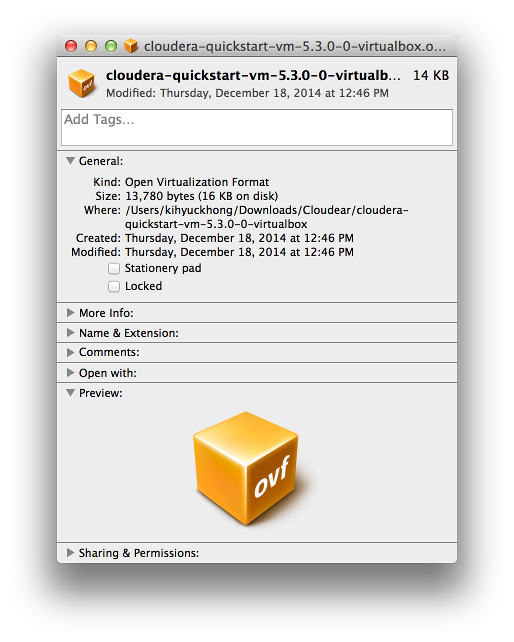 We'll install Ubuntu using VirtualBox on Max OSX 10.9.5 :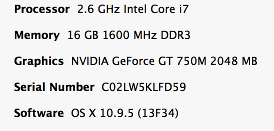 VirtualBox on Mac OS X
Download the latest Virtualbox for Mac OS X from https://www.virtualbox.org/wiki/Downloads and install it.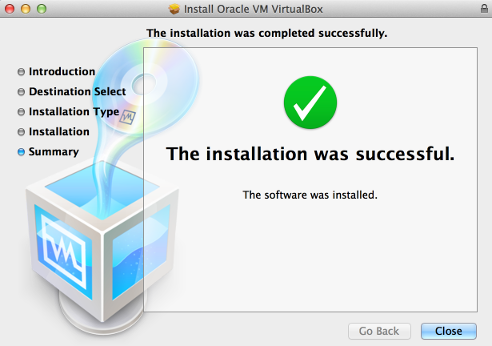 For more details on VirtualBox installation, please visit :
QuickStart VM starts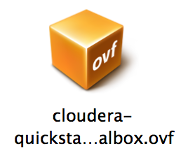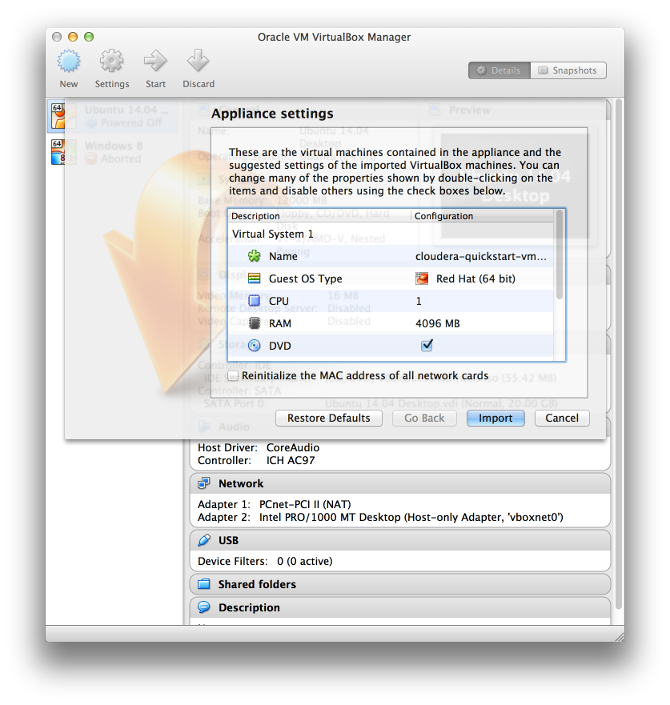 Click "Import":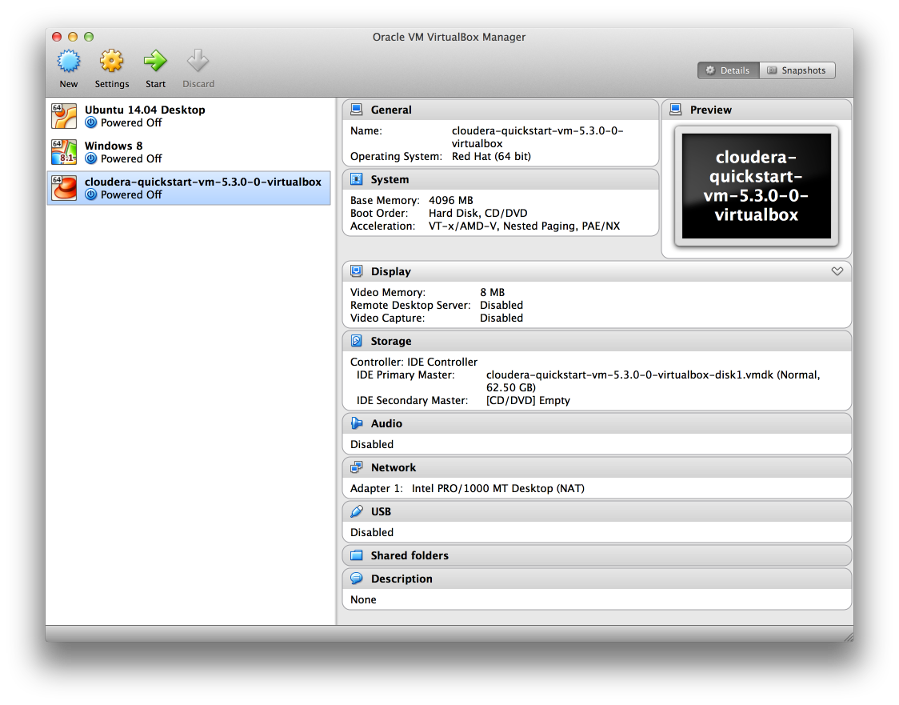 Configure
Setup "Network Adapter 2" in Network Settings in Virtual Box as "Host-only Adapter".
When setting up "Host-only Adapter", if the "Name" drop down is showing "Not selected" only, then cancel this and go back to Virtual Box preferences (Virtual Box -> preferences ->network).
Select "Host-Only Networks" then "Add" and a new entry will be created (something like "vboxnet0"). Click "OK". Now go back to Network Settings of the VM and this time Adapter 2 should show vboxnet0 in the "Name" drop down. Select "vboxnet0".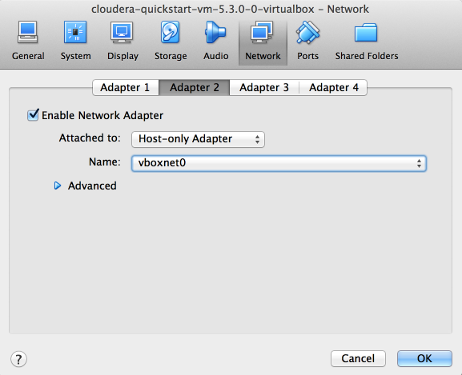 Note that the "Host-only Adapter" is needed for the Host machine to access the guest VM (CDH).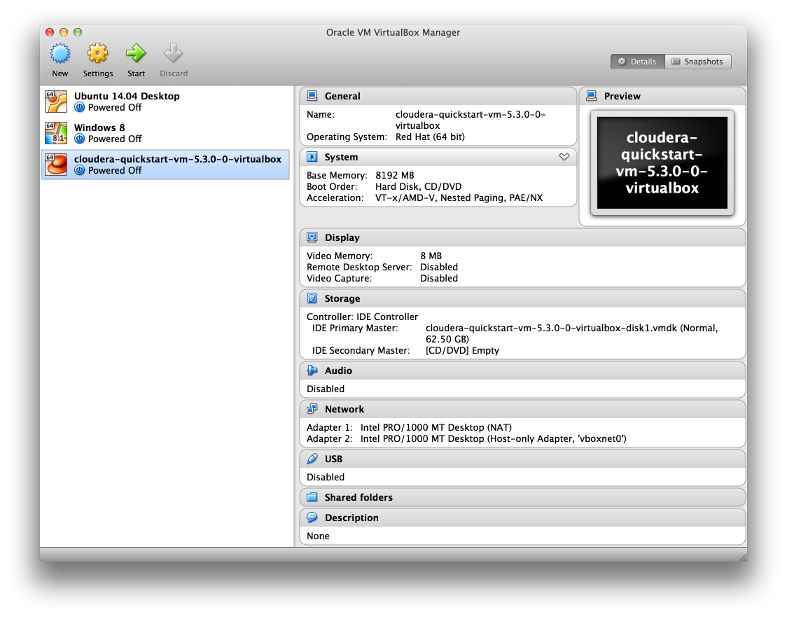 Setup to Access VM from Host
Create the same user from our host machine on the VM. We need add user cloudera to cloudera group. Open a terminal on our host machine, and type in the following:

[cloudera@quickstart ~]$ sudo useradd cloudear -g cloudera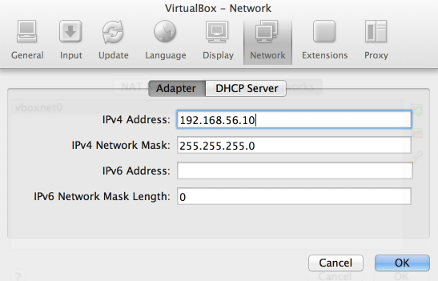 Edit the host file on host machine and add an IP entry for virtual box:

127.0.0.1    quickstart.cloudera    localhost    localhost.domain
192.168.56.10 localhost    localhost.domain

cloudera-manager
We can launch Cloudera Manager in two ways: Click the Cloudera Launch icon:

or via command:

[cloudera@quickstart ~]$ sudo /home/cloudera/cloudera-manager --force
[QuickStart] Shutting down CDH services via init scripts...
JMX enabled by default
Using config: /etc/zookeeper/conf/zoo.cfg
[QuickStart] Disabling CDH services on boot...
[QuickStart] Starting Cloudera Manager services...
[QuickStart] Deploying client configuration...
[QuickStart] Starting CM Management services...
[QuickStart] Enabling CM services on boot...
[QuickStart] Starting CDH services...
________________________________________________________________________________

Success! You can now log into Cloudera Manager from the QuickStart VM's browser:

    http://quickstart.cloudera:7180

    Username: cloudera
    Password: cloudera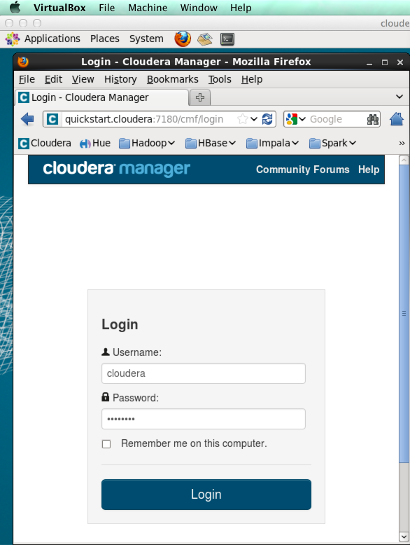 After logging into the VM, use the Cloudera Manager console to confirm that the services are all running: hdfs, impala, hue and mapreduce: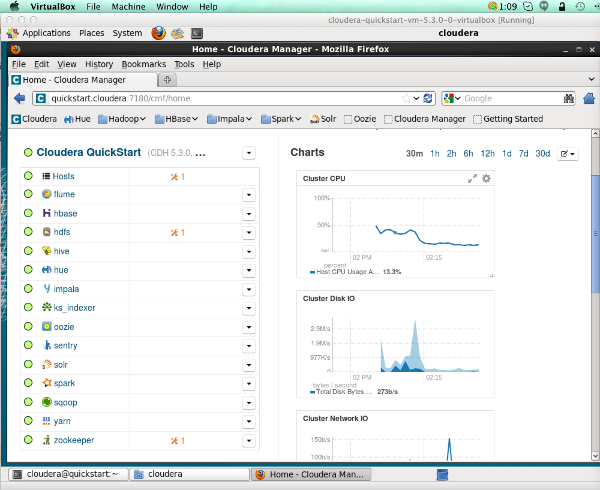 QuickStart VM Administrative Information
In most cases, the QuickStart VM requires no administration beyond managing the installed products and services. In the event that additional administration is required or that problems occur, this page provides information on accounts and possible explanations and solutions to some common problems.
Press "Start":
The browser also has bookmarks for interacting with many of these tools directly, and command-line tools are also available.
When the QuickStart VM starts, a browser is automatically opened to Hue, a user interface for Hadoop and many other tools in CDH. The credentials are:
username: cloudera
password: cloudera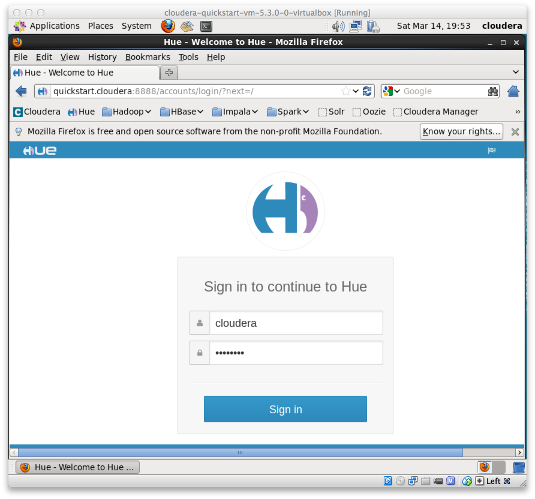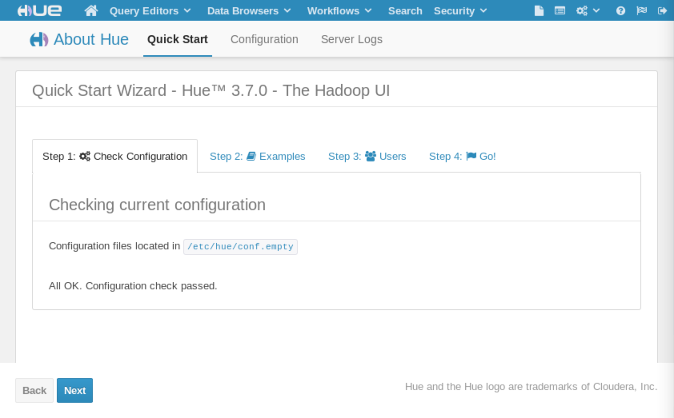 Hue, the open source GUI for Hadoop (see the bookmark in the browser integrated with the VM), to load data into HDFS. For example, the Tables Option allows the creation of new databases and tables.