Qt5 Tutorial Grid Layout - 2018
---
bogotobogo.com site search:
---
Grid Layout
In this tutorial, we will learn Grid Layout of Qt. We will modify the code we used in the previous tutorial, Layouts without Designer.
Grid Layout provides a way of dynamically arranging items in a grid.
If the GridLayout is resized, all items in the layout will be rearranged. It is similar to the widget-based QGridLayout. All children of the GridLayout element will belong to the layout. If you want a layout with just one row or one column, you can use the RowLayout or ColumnLayout. These offers a bit more convenient API, and improves readability.
By default items will be arranged according to the flow property. The default value of the flow property is GridLayout.LeftToRight.
If the columns property is specified, it will be treated as a maximum limit of how many columns the layout can have, before the auto-positioning wraps back to the beginning of the next row. The columns property is only used when flow is GridLayout.LeftToRight.
Here is our new file main.cpp:

#include <QApplication>
#include <QtCore>
#include <QtGui>
#include <QPushButton>
#include <QGridLayout>

int main(int argc, char* argv[])
{
    QApplication app(argc, argv);

    // Grid layout with 3 buttons
    QGridLayout *gridLayout = new QGridLayout;
    QPushButton *b1 = new QPushButton("A");
    QPushButton *b2 = new QPushButton("B");
    QPushButton *b3 = new QPushButton("C");
    QPushButton *b4 = new QPushButton("D");
    QPushButton *b5 = new QPushButton("E");
    QPushButton *b6 = new QPushButton("F");

    // addWidget(*Widget, row, column, rowspan, colspan)
    // 0th row
    gridLayout->addWidget(b1,0,0,1,1);
    gridLayout->addWidget(b2,0,1,1,1);
    gridLayout->addWidget(b3,0,2,1,1);

    // 1st row
    gridLayout->addWidget(b4,1,0,1,1);

    // 2nd row with 2-column span
    gridLayout->addWidget(b5,2,0,1,2);

    // 3rd row with 3-column span
    gridLayout->addWidget(b6,3,0,1,3);

    // Create a widget
    QWidget *w = new QWidget();

    // Set the grid layout as a main layout
    w->setLayout(gridLayout);

    // Window title
    w->setWindowTitle("Grid Layouts (3x4)");

    // Display
    w->show();

    // Event loop
    return app.exec();
}

Run the code: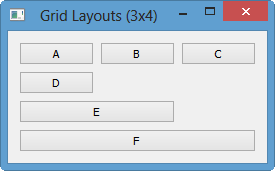 Ph.D. / Golden Gate Ave, San Francisco / Seoul National Univ / Carnegie Mellon / UC Berkeley / DevOps / Deep Learning / Visualization