Qt5 Tutorial Layouts without Designer - 2018
---
bogotobogo.com site search:
---
Layouts without Designer
In this tutorial, we will learn Layouts of Qt. We will add layouts to a form and add widgets to the layout programmatically instead of using Designer as was done in the Layouts.
We will create an empty project and will create 6 PushButtons. Then, we will arrange 3 buttons with horizontal layout, and the other three with vertical layout. The two layouts will be added to the the outer most layout, and then we pass the outer layout to our widget using setLayout().
File->Other Project->Empty Qt Project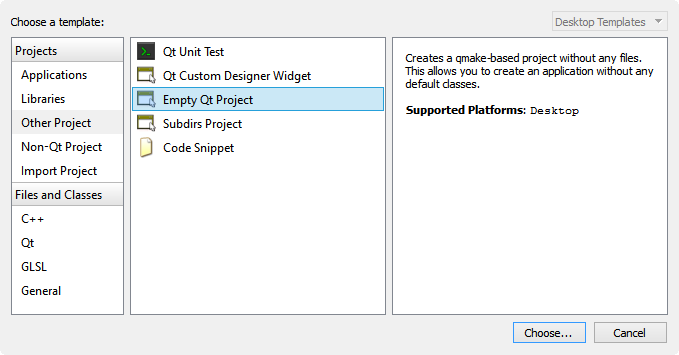 There is none in the Project explorer, and even the .pro has nothing in it. So, we need to create a file main.cpp by Add New...

#include <QApplication>
#include <QPushButton>
#include <QHBoxLayout>
#include <QVBoxLayout>

int main(int argc, char* argv[])
{
    QApplication app(argc, argv);

    // Horizontal layout with 3 buttons
    QHBoxLayout *hLayout = new QHBoxLayout;
    QPushButton *b1 = new QPushButton("A");
    QPushButton *b2 = new QPushButton("B");
    QPushButton *b3 = new QPushButton("C");
    hLayout->addWidget(b1);
    hLayout->addWidget(b2);
    hLayout->addWidget(b3);

    // Vertical layout with 3 buttons
    QVBoxLayout *vLayout = new QVBoxLayout;
    QPushButton *b4 = new QPushButton("D");
    QPushButton *b5 = new QPushButton("E");
    QPushButton *b6 = new QPushButton("F");
    vLayout->addWidget(b4);
    vLayout->addWidget(b5);
    vLayout->addWidget(b6);

    // Outer Layer
    QVBoxLayout *mainLayout = new QVBoxLayout;
    
    // Add the previous two inner layouts
    mainLayout->addLayout(hLayout);
    mainLayout->addLayout(vLayout);

    // Create a widget
    QWidget *w = new QWidget();
    
    // Set the outer layout as a main layout 
    // of the widget
    w->setLayout(mainLayout);

    // Window title
    w->setWindowTitle("layouts");
    
    // Display
    w->show();
    
    // Event loop
    return app.exec();
}

We also need to edit the .pro file:

QT += core gui
QT += widgets
SOURCES += \
    main.cpp

Note that we could have taken out the line:

QT += core gui

and instead, we could have added include statements in the main.cpp:

#include <QtCore>
#include <QtGui>

Run the code: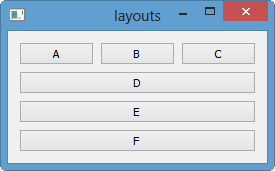 Ph.D. / Golden Gate Ave, San Francisco / Seoul National Univ / Carnegie Mellon / UC Berkeley / DevOps / Deep Learning / Visualization