Multithreading - Active threads & enumerate()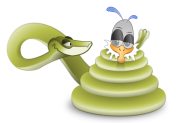 ---
bogotobogo.com site search:
---
Python Multithread
Creating a thread and passing arguments to the thread
Identifying threads - naming and logging
Daemon thread & join() method
Active threads & enumerate() method
Subclassing & overriding run() and __init__() methods
Timer objects
Event objects - set() & wait() methods
Lock objects - acquire() & release() methods
RLock (Reentrant) objects - acquire() method
Using locks in the with statement - context manager
Condition objects with producer and consumer
Producer and Consumer with Queue
Semaphore objects & thread pool
Thread specific data - threading.local()
threading.enumerate()
It is not necessary to retain an explicit handle to all of the daemon threads in order to ensure they have completed before exiting the main process.
threading.enumerate() returns a list of all Thread objects currently alive. The list includes daemonic threads, dummy thread objects created by current_thread(), and the main thread. It excludes terminated threads and threads that have not yet been started.

import threading
import time
import logging
import random

logging.basicConfig(level=logging.DEBUG,
                    format='(%(threadName)-9s) %(message)s',)

def f():
    t = threading.currentThread()
    r = random.randint(1,10)
    logging.debug('sleeping %s', r)
    time.sleep(r)
    logging.debug('ending')
    return

if __name__ == '__main__':
    for i in range(3):
        t = threading.Thread(target=f)
        t.setDaemon(True)
	t.start()

    main_thread = threading.current_thread()
    for t in threading.enumerate():
	if t is main_thread:
		continue
	logging.debug('joining %s', t.getName())
	t.join()

After threading.enumerate() gathers all active threads including the calling thread (main_thread), the code calls join() methods of those threads except the main_thread.
Output:

(daemon   ) Starting
(non-daemon) Starting
(non-daemon) Exiting

Output looks like this:

(Thread-1 ) sleeping 6
(Thread-2 ) sleeping 10
(MainThread) joining Thread-1
(Thread-3 ) sleeping 5
(Thread-3 ) ending
(Thread-1 ) ending
(MainThread) joining Thread-2
(Thread-2 ) ending
(MainThread) joining Thread-3

Ph.D. / Golden Gate Ave, San Francisco / Seoul National Univ / Carnegie Mellon / UC Berkeley / DevOps / Deep Learning / Visualization