Qt5 Tutorial QThreads - Gui Thread - 2018
---
bogotobogo.com site search:
---
Gui Thread
In this tutorial, we will learn communication between threads and GUI control.
Summary
In this example, when we run our code, we get the following dialog:

A new thread will be created in the constructor of the dialog.
Hitting the "Start" button will trigger slot, and in that slot, start() method of the thread will be called. The start() will call the thread's run() method where a valueChanged() signal will be emitted. The valueChanged() signal is connected to the onValueChanged() which will update the count label on the dialog box.

Example Code
We'll use Qt Gui Application with QDialog.
Then, create MyThread class: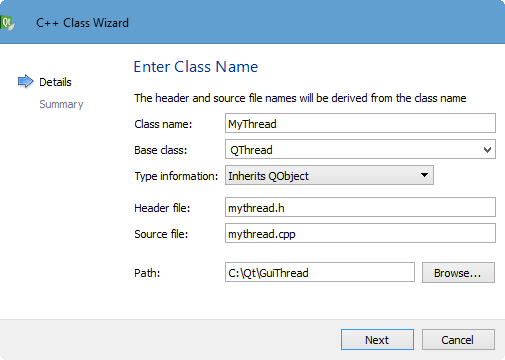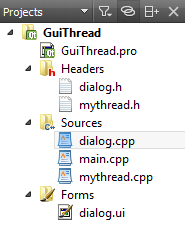 Here are the codes:
No changes made to main.cpp

#include "dialog.h"
#include <QApplication>

int main(int argc, char *argv[])
{
    QApplication a(argc, argv);
    Dialog w;
    w.show();
    
    return a.exec();
}

dialog.h

#ifndef DIALOG_H
#define DIALOG_H

#include <QDialog>
#include <QString>
#include "mythread.h"

namespace Ui {
class Dialog;
}

class Dialog : public QDialog
{
    Q_OBJECT
    
public:
    explicit Dialog(QWidget *parent = 0);
    ~Dialog();
    MyThread *mThread;
    
private:
    Ui::Dialog *ui;

public slots:
    void onValueChanged(int);

private slots:
    // for Start button
    void on_pushButton_clicked();

    // for Stop button
    void on_pushButton_2_clicked();
};

#endif // DIALOG_H

dialog.cpp

#include "dialog.h"
#include "ui_dialog.h"
#include "mythread.h"

Dialog::Dialog(QWidget *parent) :
    QDialog(parent),
    ui(new Ui::Dialog)
{
    ui->setupUi(this);

    // create an instance of MyThread
    mThread = new MyThread(this);

    // connect signal/slot
    connect(mThread, SIGNAL(valueChanged(int)),
            this, SLOT(onValueChanged(int)));

}

Dialog::~Dialog()
{
    delete ui;
}

// Absorb the signal emitted from a run() method
// and reflect the count change to the count label
// in our dialog

void Dialog::onValueChanged(int count)
{
    ui->label->setText(QString::number(count));
}

// Start button
void Dialog::on_pushButton_clicked()
{
    mThread->start();
}

// Stop button
void Dialog::on_pushButton_2_clicked()
{
    mThread->Stop = true;
}

mythread.h

#ifndef MYTHREAD_H
#define MYTHREAD_H

#include <QThread>

class MyThread : public QThread
{
    Q_OBJECT
public:
    explicit MyThread(QObject *parent = 0, bool b = false);
    void run();

    // if Stop = true, the thread will break
    // out of the loop, and will be disposed
    bool Stop;

signals:
    // To communicate with Gui Thread
    // we need to emit a signal
    void valueChanged(int);

public slots:
    
};

#endif // MYTHREAD_H

mythread.cpp

#include "mythread.h"
#include <QDebug>

MyThread::MyThread(QObject *parent, bool b) :
    QThread(parent), Stop(b)
{
}

// run() will be called when a thread starts
void MyThread::run()
{
    for(int i = 0; i <= 100; i++)
    {
        QMutex mutex;
        // prevent other threads from changing the "Stop" value
        mutex.lock();
        if(this->Stop) break;
        mutex.unlock();

        // emit the signal for the count label
        emit valueChanged(i);

        // slowdown the count change, msec
        this->msleep(500);
    }
}

Ph.D. / Golden Gate Ave, San Francisco / Seoul National Univ / Carnegie Mellon / UC Berkeley / DevOps / Deep Learning / Visualization