Dijkstra's shortest path algorithm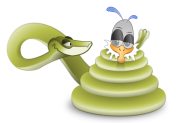 ---
bogotobogo.com site search:
---
Introduction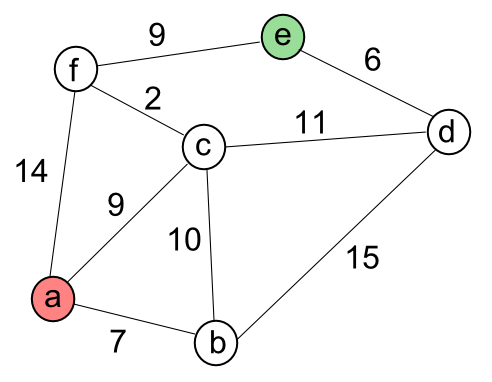 We want to find the path with the smallest total weight among the possible paths we can take.
Dijkstra's shortest path algorithm
Dijkstra's algorithm is an iterative algorithm that provides us with the shortest path from one particular starting node (a in our case) to all other nodes in the graph.
To keep track of the total cost from the start node to each destination we will make use of the distance instance variable in the Vertex class. The distance instance variable will contain the current total weight of the smallest weight path from the start to the vertex in question. The algorithm iterates once for every vertex in the graph; however, the order that we iterate over the vertices is controlled by a priority queue (actually, in the code, I used heapq).
The value that is used to determine the order of the objects in the priority queue is distance. When a vertex is first created distance is set to a very large number.
When the algorithm finishes the distances are set correctly as are the predecessor (previous in the code) links for each vertex in the graph.
Code
In the code, we create two classes: Graph, which holds the master list of vertices, and Vertex, which represents each vertex in the graph (see Graph data structure).
The source file is Dijkstra_shortest_path.py.
The function dijkstra() calculates the shortest path. The shortest() function constructs the shortest path starting from the target ('e') using predecessors.

import sys

class Vertex:
    def __init__(self, node):
        self.id = node
        self.adjacent = {}
        # Set distance to infinity for all nodes
        self.distance = sys.maxint
        # Mark all nodes unvisited        
        self.visited = False  
        # Predecessor
        self.previous = None

    def add_neighbor(self, neighbor, weight=0):
        self.adjacent[neighbor] = weight

    def get_connections(self):
        return self.adjacent.keys()  

    def get_id(self):
        return self.id

    def get_weight(self, neighbor):
        return self.adjacent[neighbor]

    def set_distance(self, dist):
        self.distance = dist

    def get_distance(self):
        return self.distance

    def set_previous(self, prev):
        self.previous = prev

    def set_visited(self):
        self.visited = True

    def __str__(self):
        return str(self.id) + ' adjacent: ' + str([x.id for x in self.adjacent])

class Graph:
    def __init__(self):
        self.vert_dict = {}
        self.num_vertices = 0

    def __iter__(self):
        return iter(self.vert_dict.values())

    def add_vertex(self, node):
        self.num_vertices = self.num_vertices + 1
        new_vertex = Vertex(node)
        self.vert_dict[node] = new_vertex
        return new_vertex

    def get_vertex(self, n):
        if n in self.vert_dict:
            return self.vert_dict[n]
        else:
            return None

    def add_edge(self, frm, to, cost = 0):
        if frm not in self.vert_dict:
            self.add_vertex(frm)
        if to not in self.vert_dict:
            self.add_vertex(to)

        self.vert_dict[frm].add_neighbor(self.vert_dict[to], cost)
        self.vert_dict[to].add_neighbor(self.vert_dict[frm], cost)

    def get_vertices(self):
        return self.vert_dict.keys()

    def set_previous(self, current):
        self.previous = current

    def get_previous(self, current):
        return self.previous

def shortest(v, path):
    ''' make shortest path from v.previous'''
    if v.previous:
        path.append(v.previous.get_id())
        shortest(v.previous, path)
    return

import heapq

def dijkstra(aGraph, start, target):
    print '''Dijkstra's shortest path'''
    # Set the distance for the start node to zero 
    start.set_distance(0)

    # Put tuple pair into the priority queue
    unvisited_queue = [(v.get_distance(),v) for v in aGraph]
    heapq.heapify(unvisited_queue)

    while len(unvisited_queue):
        # Pops a vertex with the smallest distance 
        uv = heapq.heappop(unvisited_queue)
        current = uv[1]
        current.set_visited()

        #for next in v.adjacent:
        for next in current.adjacent:
            # if visited, skip
            if next.visited:
                continue
            new_dist = current.get_distance() + current.get_weight(next)
            
            if new_dist < next.get_distance():
                next.set_distance(new_dist)
                next.set_previous(current)
                print 'updated : current = %s next = %s new_dist = %s' \
                        %(current.get_id(), next.get_id(), next.get_distance())
            else:
                print 'not updated : current = %s next = %s new_dist = %s' \
                        %(current.get_id(), next.get_id(), next.get_distance())

        # Rebuild heap
        # 1. Pop every item
        while len(unvisited_queue):
            heapq.heappop(unvisited_queue)
        # 2. Put all vertices not visited into the queue
        unvisited_queue = [(v.get_distance(),v) for v in aGraph if not v.visited]
        heapq.heapify(unvisited_queue)
    
if __name__ == '__main__':

    g = Graph()

    g.add_vertex('a')
    g.add_vertex('b')
    g.add_vertex('c')
    g.add_vertex('d')
    g.add_vertex('e')
    g.add_vertex('f')

    g.add_edge('a', 'b', 7)  
    g.add_edge('a', 'c', 9)
    g.add_edge('a', 'f', 14)
    g.add_edge('b', 'c', 10)
    g.add_edge('b', 'd', 15)
    g.add_edge('c', 'd', 11)
    g.add_edge('c', 'f', 2)
    g.add_edge('d', 'e', 6)
    g.add_edge('e', 'f', 9)

    print 'Graph data:'
    for v in g:
        for w in v.get_connections():
            vid = v.get_id()
            wid = w.get_id()
            print '( %s , %s, %3d)'  % ( vid, wid, v.get_weight(w))

    dijkstra(g, g.get_vertex('a'), g.get_vertex('e')) 

    target = g.get_vertex('e')
    path = [target.get_id()]
    shortest(target, path)
    print 'The shortest path : %s' %(path[::-1])

Output:

Graph data:
( a , f,  14)
( a , c,   9)
( a , b,   7)
( c , d,  11)
( c , f,   2)
( c , a,   9)
( c , b,  10)
( b , d,  15)
( b , a,   7)
( b , c,  10)
( e , d,   6)
( e , f,   9)
( d , c,  11)
( d , e,   6)
( d , b,  15)
( f , a,  14)
( f , c,   2)
( f , e,   9)
Dijkstra's shortest path
updated : current = a next = f new_dist = 14
updated : current = a next = c new_dist = 9
updated : current = a next = b new_dist = 7
updated : current = b next = d new_dist = 22
not updated : current = b next = c new_dist = 9
updated : current = c next = d new_dist = 20
updated : current = c next = f new_dist = 11
updated : current = f next = e new_dist = 20
not updated : current = d next = e new_dist = 20
The shortest path : ['a', 'c', 'f', 'e']

The steps to calculates the path are:
Assign to every node a tentative distance value: set it to zero for our initial node and to infinity for all other nodes. Actually, initialization is done in the Vertex constructor:


self.distance = sys.maxint


For the starting node, initialization is done in dijkstra()


print '''Dijkstra's shortest path'''
# Set the distance for the start node to zero 
start.set_distance(0)


Mark all nodes unvisited. This is also done in the Vertex constructor:


self.visited = False 


Set the initial node as current. Create a list of the unvisited nodes called the unvisited list consisting of all the nodes. We do it using tuple pair, (distance, v)


def dijkstra(aGraph, start, target):
    print '''Dijkstra's shortest path'''
    # Set the distance for the start node to zero 
    start.set_distance(0)

    # Put tuple pair into the priority queue
    unvisited_queue = [(v.get_distance(),v) for v in aGraph]
    heapq.heapify(unvisited_queue)


For the current node, consider all of its unvisited neighbors and calculate their tentative distances. Compare the newly calculated tentative distance to the current assigned value and assign the smaller one. For example, if the current node A is marked with a distance of 6, and the edge connecting it with a neighbor B has length 2, then the distance to B (through A) will be 6 + 2 = 8. If B was previously marked with a distance greater than 8 then change it to 8. Otherwise, keep the current value.


    while len(unvisited_queue):
        # Pops a vertex with the smallest distance 
        uv = heapq.heappop(unvisited_queue)
        current = uv[1]
        current.set_visited()

        #for next in v.adjacent:
        for next in current.adjacent:
            # if visited, skip
            if next.visited:
                continue
            new_dist = current.get_distance() + current.get_weight(next)
            
            if new_dist < next.get_distance():
                next.set_distance(new_dist)
                next.set_previous(current)
                print 'updated : current = %s next = %s new_dist = %s' \
                        %(current.get_id(), next.get_id(), next.get_distance())
            else:
                print 'not updated : current = %s next = %s new_dist = %s' \
                        %(current.get_id(), next.get_id(), next.get_distance())



When we are done considering all of the neighbors of the current node, mark the current node as visited and remove it from the unvisited set.


    while len(unvisited_queue):
        # Pops a vertex with the smallest distance 
        uv = heapq.heappop(unvisited_queue)
        current = uv[1]
        current.set_visited()
        ...
        # Rebuild heap
        # 1. Pop every item
        while len(unvisited_queue):
            heapq.heappop(unvisited_queue)
        # 2. Put all vertices not visited into the queue
        unvisited_queue = [(v.get_distance(),v) for v in aGraph if not v.visited]
        heapq.heapify(unvisited_queue)


For each new node visit, we rebuild the heap: pop all items, refill the unvisited_queue, and then heapify it.

A visited node will never be checked again. #for next in v.adjacent: for next in current.adjacent: # if visited, skip if next.visited: continue
If there is no unvisited node, the algorithm has finished. Otherwise, we go back to step 4.
Gather predecessors starting from the target node ('e'). In the code, it's done in shortest() function.


def shortest(v, path):
    ''' make shortest path from v.previous'''
    if v.previous:
        path.append(v.previous.get_id())
        shortest(v.previous, path)
    return

Ph.D. / Golden Gate Ave, San Francisco / Seoul National Univ / Carnegie Mellon / UC Berkeley / DevOps / Deep Learning / Visualization