Selenium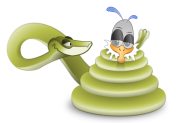 ---
bogotobogo.com site search:
---
Introduction
In this tutorial, we'll get Selenium, Google Chrome, and ChromeDriver installed.
Selenium is a portable software testing framework for web applications.

Selenium provides a record/playback tool for authoring tests without learning a test scripting language (Selenium IDE). It also provides a test domain-specific language (Selenese) to write tests in a number of popular programming languages, including Java, C#, Groovy, Perl, PHP, Python and Ruby.

The tests can then be run against most modern web browsers. Selenium deploys on Windows, Linux, and Macintosh platforms. It is open-source software, released under the Apache 2.0 license, and can be downloaded and used without charge.

...

Selenium WebDriver is the successor to Selenium RC. Selenium WebDriver accepts commands (sent in Selenese, or via a Client API) and sends them to a browser. This is implemented through a browser-specific browser driver, which sends commands to a browser, and retrieves results.
bogotobogo.com site search:
Install Selenium
We'll use virtualenv with Python3:

$ virtualenv -p python3 venv3

$ source venv3/bin/activate
(venv3)$ 

(venv3)$ pip install selenium

Check the Selenium version from Python shell:

>>> from selenium import webdriver
>>> from selenium import selenium
>>> print ("Selenium webdriver Version: %s" % (webdriver.__version__))
Selenium webdriver Version: 2.53.6

Latest amd64 chromedriver

$ wget https://dl.google.com/linux/direct/google-chrome-stable_current_amd64.deb
$ sudo dpkg -i --force-depends google-chrome-stable_current_amd64.deb

Install the latest Google Chrome

$ LATEST=$(wget -q -O - http://chromedriver.storage.googleapis.com/LATEST_RELEASE)
$ wget http://chromedriver.storage.googleapis.com/$LATEST/chromedriver_linux64.zip
$ unzip chromedriver_linux64.zip && sudo ln -s $PWD/chromedriver /usr/local/bin/chromedriver

Launch a browser with ChromeDriver

(venv3)$ python
Python 3.4.3 
>>> from selenium import webdriver
>>> d = webdriver.Chrome()
>>> d.get("http://www.google.com/")
>>> d.title
'Google'
>>> 

We can access the classes like this (WebDriver API):

webdriver.Firefox
webdriver.FirefoxProfile
webdriver.Chrome
webdriver.ChromeOptions
webdriver.Ie
webdriver.Opera
webdriver.PhantomJS
webdriver.Remote
webdriver.DesiredCapabilities
webdriver.ActionChains
webdriver.TouchActions
webdriver.Proxy

The following example (selenium 3.0.0b1) does:
open a new Firefox browser
load the Yahoo homepage
search for "selenium"
close the browser

from selenium import webdriver
from selenium.webdriver.common.keys import Keys

d = webdriver.Chrome()

d.get('http://www.yahoo.com')
assert 'Yahoo' in d.title

elem = d.find_element_by_name('p')  # Find the search box
elem.send_keys('selenium' + Keys.RETURN)

d.quit()

Python Unittest
Selenium WebDriver is often used as a basis for testing web applications. Here is a simple example uisng Python's standard unittest library (https://pypi.python.org/pypi/selenium):

import unittest
from selenium import webdriver

class GoogleTestCase(unittest.TestCase):

    def setUp(self):
        self.browser = webdriver.Chrome()
        self.addCleanup(self.browser.quit)

    def testPageTitle(self):
        self.browser.get('http://www.google.com')
        self.assertIn('Google', self.browser.title)

if __name__ == '__main__':
    unittest.main(verbosity=2)

Output:

python unit.py
testPageTitle (__main__.GoogleTestCase) ... ok

----------------------------------------------------------------------
Ran 1 test in 12.203s

OK

Ph.D. / Golden Gate Ave, San Francisco / Seoul National Univ / Carnegie Mellon / UC Berkeley / DevOps / Deep Learning / Visualization