Redis with Python - 2018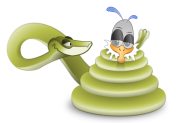 ---
bogotobogo.com site search:
---
Redis with Python
In order to use Redis with Python, we will need a Python Redis client.
In following sections, we will demonstrate the use of redis-py, a Redis Python Client.
redis-py requires a running Redis server. See Redis Install for installation.
Redis with Python
Use pip to install redis-py:

$ sudo pip install redis

To create a connection to Redis using redis-py:

$ python
Python 3.4.3 (default, Oct 14 2015, 20:28:29) 
[GCC 4.8.4] on linux
Type "help", "copyright", "credits" or "license" for more information.
>>> import redis
>>> r = redis.Redis(host='localhost', port=6379, db=0)

The port=6379 and db=0 are default values.
Reading and Writing Data
Now that we are connected to Redis, we can start reading and writing data.
The following code snippet writes the value bar to the Redis key foo, reads it back, and prints it:

>>> r.set('foo','bar')
True
>>> r.get('foo')
b'bar

The set key to hold the string value. If key already holds a value, it is overwritten, regardless of its type. Any previous time to live associated with the key is discarded on successful SET operation.
incr/decr
The incr/decr increments/decrements the number stored at key by one.
If the key does not exist, it is set to 0 before performing the operation.

>>> r.set('count',1)
True
>>> r.incr('count')
2
>>> r.incr('count')
3
>>> r.decr('count')
2
>>> r.get('count')
b'2'

Error case:

>>> r.set('count',123456789012345678901234567890)
True
>>> r.incr('count')
redis.exceptions.ResponseError: value is not an integer or out of range

rpush, llen, and lindex
The rpush inserts all the specified values at the tail of the list stored at key.
The llen returns the length of the list stored at key.
The lindex returns the element at index index in the list stored at key. The index is zero-based, so 0 means the first element, 1 the second element and so on.

>>> r.rpush('hispanic', 'uno')
1
>>> r.rpush('hispanic', 'dos')
2
>>> r.rpush('hispanic', 'tres')
3
>>> r.rpush('hispanic', 'cuatro')
4
>>> r.llen('hispanic')
4
>>> r.lindex('hispanic', 3)
b'cuatro'

References
For more info :
Ph.D. / Golden Gate Ave, San Francisco / Seoul National Univ / Carnegie Mellon / UC Berkeley / DevOps / Deep Learning / Visualization