Functional Python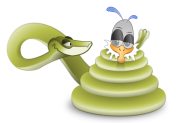 ---
bogotobogo.com site search:
---
Functional programming
Functional programming & Python!
We have two good resources on this topic.
1. docs.python.org
The following is from https://docs.python.org/2/howto/functional.html.
Functional programming decomposes a problem into a set of functions. Ideally, functions only take inputs and produce outputs, and don't have any internal state that affects the output produced for a given input. Well-known functional languages include the ML family (Standard ML, OCaml, and other variants) and Haskell.
In a functional program, input flows through a set of functions. Each function operates on its input and produces some output. Functional style discourages functions with side effects that modify internal state or make other changes that aren't visible in the function's return value. Functions that have no side effects at all are called purely functional (pure function). Avoiding side effects means not using data structures that get updated as a program runs; every function's output must only depend on its input.
Some languages are very strict about purity and don't even have assignment statements such as a=3 or c = a + b, but it's difficult to avoid all side effects. Printing to the screen or writing to a disk file are side effects, for example. For example, in Python a print statement or a time.sleep(1) both return no useful value; they're only called for their side effects of sending some text to the screen or pausing execution for a second.
Python programs written in functional style usually won't go to the extreme of avoiding all I/O or all assignments; instead, they'll provide a functional-appearing interface but will use non-functional features internally. For example, the implementation of a function will still use assignments to local variables, but won't modify global variables or have other side effects.
Functional programming can be considered the opposite of object-oriented programming. Objects are little capsules containing some internal state along with a collection of method calls that let you modify this state, and programs consist of making the right set of state changes. Functional programming wants to avoid state changes as much as possible and works with data flowing between functions. In Python you might combine the two approaches by writing functions that take and return instances representing objects in your application (e-mail messages, transactions, etc.).
Functional design may seem like an odd constraint to work under. Why should you avoid objects and side effects? There are theoretical and practical advantages to the functional style:
Formal provability
Modularity
Composability
Ease of debugging and testing
2. Charming Python: Functional programming in Python
The following is from our second resource, Charming Python: Functional programming in Python:
The functional programming has at least several of the following characteristics:
Functions are first class (objects). That is, everything you can do with "data" can be done with functions themselves (such as passing a function to another function).
Recursion is used as a primary control structure. In some languages, no other "loop" construct exists.
There is a focus on LISt Processing (for example, the name Lisp). Lists are often used with recursion on sub-lists as a substitute for loops.
"Pure" functional languages eschew side-effects. This excludes the almost ubiquitous pattern in imperative languages of assigning first one, then another value to the same variable to track the program state.
FP either discourages or outright disallows statements, and instead works with the evaluation of expressions (in other words, functions plus arguments). In the pure case, one program is one expression (plus supporting definitions).
FP worries about what is to be computed rather than how it is to be computed.
Much FP utilizes higher order functions (in other words, functions that operate on functions that operate on functions).
More
Ph.D. / Golden Gate Ave, San Francisco / Seoul National Univ / Carnegie Mellon / UC Berkeley / DevOps / Deep Learning / Visualization