Multithreading : Thread specific data - threading.local()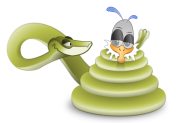 ---
bogotobogo.com site search:
---
Thread specific data - threading.local()
Thread-local data is data whose values are thread specific. To manage thread-local data, just create an instance of local (or a subclass) and store attributes on it:

mydata = threading.local()
mydata.x = 1

The instance's values will be different for separate threads.
- from https://docs.python.org/3/library/threading.html
While some resources need to be locked so multiple threads can use them, others need to be protected so that they are hidden from the views of threads that do not "own" them. The local() function creates an object capable of hiding values from view in separate threads.

import threading
import logging
import random

logging.basicConfig(level=logging.DEBUG,
                    format='(%(threadName)-0s) %(message)s',)

def show(d):
    try:
        val = d.val
    except AttributeError:
        logging.debug('No value yet')
    else:
        logging.debug('value=%s', val)

def f(d):
    show(d)
    d.val = random.randint(1, 100)
    show(d)

if __name__ == '__main__':
    d = threading.local()
    show(d)
    d.val = 999
    show(d)

    for i in range(2):
        t = threading.Thread(target=f, args=(d,))
        t.start()

Output:

(MainThread) No value yet
(MainThread) value=999
(Thread-1) No value yet
(Thread-1) value=51
(Thread-2) No value yet
(Thread-2) value=19

Note that local_data.value is not set for any thread until it is set in that thread.
Subclassing threading.local
To initialize the settings so all threads start with the same value, we need to use a subclass and set the attributes in __init__().

import threading
import logging
import random

logging.basicConfig(level=logging.DEBUG,
                    format='(%(threadName)-10s) %(message)s',)

def show(d):
    try:
        val = d.val
    except AttributeError:
        logging.debug('No value yet')
    else:
        logging.debug('value=%s', val)

def f(d):
    show(d)
    d.value = random.randint(1, 100)
    show(d)

class MyLocal(threading.local):
    def __init__(self, v):
        logging.debug('Initializing %r', self)
        self.val = v

if __name__ == '__main__':
    d = MyLocal(999)
    show(d)

    for i in range(2):
        t = threading.Thread(target=f, args=(d,))
        t.start()

Output:

(MainThread) Initializing <__main__.MyLocal object at 0x7fc928e37b48>
(MainThread) value=999
(Thread-1  ) Initializing <__main__.MyLocal object at 0x7fc928e37b48>
(Thread-1  ) value=999
(Thread-1  ) value=999
(Thread-2  ) Initializing <__main__.MyLocal object at 0x7fc928e37b48>
(Thread-2  ) value=999
(Thread-2  ) value=999

Python Multithread
Creating a thread and passing arguments to the thread
Identifying threads - naming and logging
Daemon thread & join() method
Active threads & enumerate() method
Subclassing & overriding run() and __init__() methods
Timer objects
Event objects - set() & wait() methods
Lock objects - acquire() & release() methods
RLock (Reentrant) objects - acquire() method
Using locks in the with statement - context manager
Condition objects with producer and consumer
Producer and Consumer with Queue
Semaphore objects & thread pool
Thread specific data - threading.local()
Ph.D. / Golden Gate Ave, San Francisco / Seoul National Univ / Carnegie Mellon / UC Berkeley / DevOps / Deep Learning / Visualization